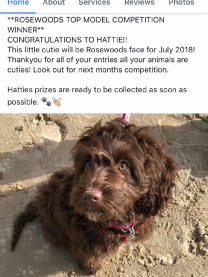 Hi Donna
Hope you're well! I've been recommended to you by the owner of Bill - https://www.instagram.com/liza_and_bill - he is definitely one of the most perfect cavapoos I've ever seen, well done you!
Could you let me know what your current waiting list is for F1 cavapoos and your pricing please? We're not ready for one just yet (getting married next month and have a lot on our plate) but have been we've thinking about getting a dog for years and would love to have one very soon!
Thanks in advance
Lucy
We would just like to say ,what a fantastic addition to our family we have had ,due to Donna jay,she has been excellent from the first contact .....been given fantastic advise from the off and a reputation for a breeder is the best ..nothing it too much to ask her ,and even looked after our puppy for us while we were away....Franklin our Doug de Bordeaux which came from Donna is such a great loving character ,and I am so proud to say who I got Franklin off ...



Here you go, I'll send you the other when his school upload it. Ahh I'm glad that girl got in touch she messaged me and said she had been looking at hundreds of cavapoos and Bill was the cutest she's ever seen xxx




Hi took buddy to the vets as he had to have another course of jabs as the one he had we don't seem to have in MK , but he said he's perfect and in fact the loveliest Cavapoo he's ever seen , Is using him on his website.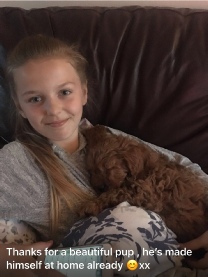 We had been looking for our family dog for a while when we stumbled across http://www.donnajaysbordeauxs.co.uk/endorsements.html
And I'm so glad I did as I found the most perfect red cavapoo. I was so impressed with the website and the first time I spoke with Donna I knew we had found the right one. It is our first family dog and Donna was so helpful answering all our questions and providing all the answers.
Deposit paid and off we went. 1 and a half hours later we arrived at Donnas beautiful home where we met Disney (our puppy) for the first time. He was even better in real life a very healthy happy cavapoo. There was no rush to leave Donna made sure we left with pur puppy happy and ready to start our new adventure with the most amazing cavapoo.
It doesn't end there. Donna is at the end of the phone if I ever need advice. I would 100% recommend that you start your search here as you won't need to look any further. Amazing and Thank you x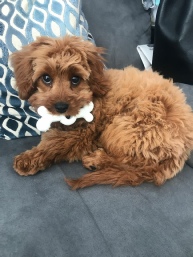 Hi Donna, I just want to let you know we just took Bill to the vets and they said he is absolutely perfect and they can tell your an excellent breeder and he's been brought up well, so I thought I would let you know
Thank you again! Nat & Lew xx
Ps he loves his new home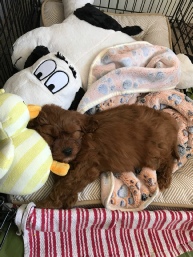 Hi Donna, I just want to let you know Hattie is doing great, she's settled in very well. We tried her in a pen at night time, it took her two nights to figure out how to escape it and come up the stairs to bed lol, so she's a clever little one. She's been great around my nieces and nephews, even watching pepper pig on the iPad sitting on my 5 year old nephews lap! She's absolutely amazing and is loved and spoilt already. It's very clear she has come from a great home, so I just wanted to say thank you for such an amazing dog xx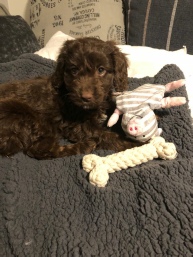 Hi Donna, just a quick note to say a big massive thank you for yesterday. We decided on the name Buddy, he is lovely & the kids are ecstatic. I've calmed down!! Thanks again, The Day family xxxxx
Hi Donna, it's Troy here. I just wanted to send you an update. Our little Oreo puppy has settled brilliantly and we are all completely in love with him! He is adorable and almost instantly become part of the family.


Thank you for giving us such a wonderful puppy.
Troy x
Hi Donna
I hope you and your family are well. Just thought we would drop you a line to say how Dolly is.
She has really exceeded all our expectations and continues to to be a darling.
I thought there was a saying that you couldn't teach an old dog new tricks, but that is so completely wrong. I didn't think that a family pet could be so intelligent. She is so obedient and loving especially towards our 3 grandsons who just totally love her to bits.
She has really become a part of our family that we could never be without. She loves it when she creeps upstairs and has a snooze on our bed, I know she shouldn't but when we walk in she pretends to be asleep, adorable. its her birthday tomorrow, 4 years, only seems a few months since we collected her that snowy March morning, time flies. If anyone was after a DDB I wouldn't hesitate in recommending you.
Do you still have her Mum & Dad Brandy & Boyce?
Warm regards
Paul & Deb
Nottingham
"Hi Donna,
This is a picture of Poppy taken this week. She's a real bundle of fun and the children love her to bits.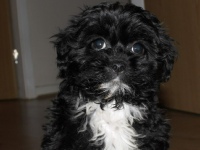 A few people have asked for your details so they may get in touch".
Best wishes,
Alexa x
"Hi Donna, just wanted to say again thank you and he is absolutely beautiful. I'm so glad we found you because he's full of love and personality and that's down to you spending time and care with him. All of your dogs are absolutely gorgeous I could have taken all of them home! Hope today goes well with the other puppies flying the nest".xx
Jordan Gambley
"Thank you for our two beautiful douges the kids love them and they love the kids temperaments to die for and especially for all the help and advice xxxx".
Clyde McEwen
"Thank you for our beautiful Bobbie, she is absolutely awesome and we love her so much. You produce some fantastic dogues and we are so happy with our girl.xxx."
Christine Ward
"I got my baby tiny February 2014. Donna is a very professional breeder she gave me advise on the breed (jug) before i went to see her. I couldnt believe how clean and immaculate her place was for having so many pups. I fell in love with tiny as soon as i saw her. She was and still is adorable. No issues with her health at all. Everyone comments on how fit she is being a pug x. Im So glad i got her from donna. Highly recommended her as a breeder. I was and still am more than happy with my fur baby."
Charlene Quince
"We researched this breed long and hard before we bought our first Ddb . We went through lots of breeders before we found the lovely Donna jay. She was great from the start and still is now nearly 4 years after we bought our beautiful nala home . She's always there on the other end of the phone if you need and she still takes great interest in nala after all these years . No heath issues at all . We have a beautiful healthy dogue."
Michelle Hill
"Hi Donna, I bought a jug puppy off you back in March, 'Prince'. I was just wondering if you will be having any more pups the same? He is just so lovely and would love another for company for him."
Thanks
Sophie
"Hello I would just like to say I had the pleasure owning a dog from your lines he died last year 8 years old cancer he was 30 to the withers and an amazing specimen after Kane went I don't think I could face owning another as he was just amazing in both size and looks I have Frenchies of all colours and pugs Boston's terriers and British bulldog I do miss a big dog but will change breed as to much heart ache with these lovable giants so this was just really a thank you and I always recommend you if people ask for Bordeaux "
Kindest regards
Taurrean Hanly
"Hi Donna Ali is doing fine and integrating himself firmly into our family.He had His second injections on THURS and hated them. Trying to get him used to walking With a lead wish us luck.Once again Thanks for him we Love him and were having Great fun."
"Hi. I purchased a puppy form your October litter. She is an absolute joy and I couldn't be more happy with her. I'm contacting you to see if you have any other litters planned. I would like to be added to your waiting list."
Thanks
Emma
"Donna this is I picture of dolly that was taken last week.she is absolutely great,loves going out,adores sleeping on the bed and follows Mary everywhere. Everywhere we take her there is always someone who stops us to comment how cute she is and to ask us what type of breed she is".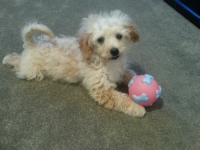 Jason and Mary
"Hi Hun, just to let you know Bonnie has settled in really well. Bruno adores her and just wants to sniff and lick her, She's had her breakfast and gone straight outside for a wee and a poo so I'm really pleased with her there. She's just adorable mate and I just want to thank you so much for letting me have her. I'm hopefully getting her in for her jabs later so while I'm there I'm gonna get her a new coat lol. She's gonna be spoilt rotten lol. Honestly mate I cannot thank you enough".

J. xxx
"Hello I would just like to say I had the pleasure owning a dog from your lines he died last year 8 years old cancer he was 30 to the withers and an amazing specimen after kane went I don't think I could face owning another as he was just amazing in both size and looks I have Frenchies of all colours and pugs Bostons terriers and British bulldog I do miss a big dog but will change breed as to much heart ache with these lovable giants so this was just really a thank you and I always recommend you if people ask for bordeaux."
Kindest regards
Taurrean Hanly
"Hey Donna I wanted to drop you a little message to let you know that "Donnajay Sassy Lady" Is off to Crufts in March:) She came third in puppy class this weekend at the South Wales Championship show. I can't tell you how proud I am. Love her to bits I just need to work on getting her to stand still longer and to hold her own head, she's still such a baby though and I'm so proud! Just waiting for Stephen to send me a few pictures through and i can send you a few:) xxx."
"......... no thank you and not only is she perfect to look at most importantly she has a fabulous temperament, fantastic with other dogs and people, never stops wagging her tail she absolutely loves the kids and they love her."
Donnajays Top Prospect Owner.
"To Donna & all your lovely Dogues!
Just wanted to let you know how pleased we are with our new puppy Nelly, she has settled in extremely well such a happy & confident little girl a real credit to your kennel!
Thank you so much for all your help & advise we will keep you updated on Nelly's progress."
xx Marie & Andy Southampton
"Donna provided us with an excellent service made even more so due to her caring and considerate nature. She goes that extra mile to ensure that all your requirements are met and we cannot speak highly enough. We are extremely happy with our beautiful puppy!"
Miss Billie Rowley
"Hi Donna,

Me and my other half brought a female puppy from you 18 months ago but sadly had to give her back to you as I was pregnant and struggled with her, we didn't feel it was fair on her.

We feel ready to have a puppy now and would love to come back to you, as you were so understanding and helpful before and your dogs are beautiful.

Look forward to hearing from you."

Leanne Dipple
"I just wanted to say how absolutely adorable your little ones are! It is evident the amount of work, love and dedication you have for your DDBs and the breed...your babies are beautiful.
Warmest Regards,"
Deana Crutcher
"Hi Donna,

You probably won't remember me but I bought a beautiful jackahuahua from you nearly a year ago now!

She has been the most fantastic dog EVER and we were thinking of getting another to keep her company!

Are you planning on having anymore?

Let us know

Thanks"

Amy
"Hi Donna
Hope your all well. We tried to get in touch with you last year to let you know how Dolly was doing. She's 7.5 stone now and keeps growing and growing. She has such a wonderful temperament that is true to the Bordeaux breed. When we take her out she is always getting attention from other dog owners (I love showing her off )
We could not imagine life without her now. Best of luck at Crufts. Please keep in touch.
Warm regards"
Paul, Nottingham


"When I lost my boxer dog I knew I couldn't go for long without having another dog . My only problem was he had major health issues and I was afraid of having another dog who was going to be ill all the time. I couldn't stand the heartache again. I wanted a dogue de Bordeaux so I did a lone Internet research and found Donna jay . My friend who breeds shepherds looked into all her Dogues and studied their pedigrees, they were amazing. She also enquired at crufts and got some really good feedback about Donna and her Dogues. I spoke 2 Donna jay several times about how I felt and she was fantastic . She invited me to go see all her Dogues and have a chat, she was so kind and understanding . It took me a while to decide and I thought she'd get fed up with me ringing all the time. I now have Nala . She is a beautiful dogue and she has a lovely temperament . I believe u get a good puppy if u go with the right breeder. I can't thank her enough for all she's done. She's there for you anytime, even after you have bought a dog from her. If you are considering buying a dogue de Bordeaux please check her out. Can't fault her or her Dogues in any way."
Michelle Hill
"Couldn't of asked for a better breeder or nicer person not only have we got a amazing dog if we need any questions or worries Donna is always happy to help. Lola is a credit to the breed and has an amazing temperament and this goes to show how much time and dedication Donna puts in to her work and her love of dogs. "
Thanks again Donna lots of love from Siobhan and Gareth keep up the good work xxx
"Dear Donna
Myself and my wife would like to thank you for the care and attention you gave us when we first contacted you regarding our intentions to buy a Dogue De Bordeaux puppy.
We looked at many breeder outlets but were impressed with your website and its professional content which drew us towards you from initial contact to now. Its nice to know that if we have any problems you are always there to talk to.
We would not hesitate in recommending you to anyone who is after a dog. Once again thank you for everything."
Paul & Deb
Nottingham
"Anybody looking for a dogue de bordeaux need look no further.I was looking for a very long time for the perfect dog and breeder.then I found donnas site, I was delighted with what I saw.donna was great at answering any questions I had on the breed and was great at putting my mind at rest.donna is very passionate about her dogs and after talking to her rubs of onto her.I am delighted with my boy woody which I got from donna.he is the best looking dogues I have ever seen if not one of the best.in short donna provides the best service and advice around.her dogues are second to non.thankyou donna for all your helpand for providing us with our beautiful adition to our family."
Thanks Matthew Brebion
"My family and I were lucky enough to become the proud owners of two of donnas dogues Donnajay Diamonte and Donnajay Mine field in March of this year. we went to Donnas home to pick our babies and met donna on several occasions while we were waiting for them to be old enough to come home, we cant praise donna or her dogues enough .. her after sales care is second to none and when donna says she is only at the end of the phone that is exactly what she means... top breader and loving dogue owner ..these are the words that describe donna best "
Len and Gail
"I would just like to thank Donna of Donnajay kennels for my beautiful boy, we couldn't be happier just love him. Really enjoyed the afternoon at your kennels they were spotless, a great set up you have. All of your dogues were amazing each and everyone of them quality, the pedigree's you have speak for themselves in your kennels. You were very welcoming and look forward to staying in touch and giving you updates of our new boy."
Natalie Rapear
"Another update of our Boss'y boy, hope you enjoy! Please feel free to use our pictures on your website as he really is a testament to you. Every month at the vets for a weigh, flea and wormer at least two of the vet nurses are rolling on the floor playing with him and giving him a fuss. With every walk we are stopped and complemented about him and as a breed on the whole. He plays with my 5 year old son in such a gentle way, that he could only know the difference between child and adult! He is such an amazing dog we thank you for."
Thank you, Rowena and Andy
"Donna I would just like to say it was a pleasure to meet you and your son jay last night you put all our worry's to rest and you was so helpful taking us though everything ,I'm happy to say cooper did not make one sound last night ,he did not eat last night and only had a little this morning and has use the puppy pads too thank you very much for all you have done ,hope everything goes ok for you today "
Neil and lynsey xx
"I purchased my DDB before the litter was even born, I didn't want to miss out on the quality litter I had saw in the previous pictures. I received many updates from Donna via telephone calls to assure me of the well being of my puppy. On collection I was welcomed by Donna and I was introduced to the other Bordeauxs, including the mother of my boy, who was in fantastic condition. I was then shown my puppy, Donna was as excited as I was, they were all together keeping each other warm and I collected my boy. He was chipped there and then and I was given all the relevant paperwork. I had plenty of opportunity to ask all the questions I wanted to put to Donna and she was more than happy to take the time to answer them in detail for me. It's been 4 weeks since I've had my adorable puppy Benson, and I have called Donna on many occasions to ask for advice and she has again be more than helpful. My boy is already looking chunky, healthy, playful and is toilet trained and well behaved."
Alex Myers